Vindeby Offshore Wind Farm
Photograph © 1992 Bonus Energy A/S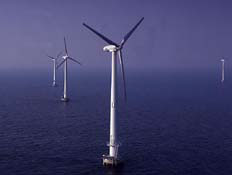 Megawatt sized wind turbines, cheaper foundations and new knowledge about offshore wind conditions is improving the economics of offshore wind power.


While wind energy is already economic in good onshore locations, wind energy is about to cross another frontier: The economic frontier set by shorelines. Researchers and developers are about to challenge conventional wisdom on electricity generating technologies: Offshore wind energy is rapidly becoming competitive with other power generating technologies.

The Danish Plan 21
According to The Danish Governments' Action Plan for Energy, Energy 21 (see the Links page), 4,000 MW of offshore wind power should be installed before year 2030. With another 1,500 MW installed onshore Denmark will then be able to cover more than 50 per cent of total electricity consumption by wind energy. In comparison, the current wind power capacity in Denmark is 1,100 MW (mid 1998).


A total of 5,500 MW of wind power in the Danish electricity system means that the wind turbines periodically will cover more than 100 per cent of Danish electricity demand. Therefore, the future Danish offshore power plants should be an integrated part of the Scandinavian electricity system, which is based on huge amounts on hydro power.


With a total investment of some 48 billion DKK (= 7 billion USD) for the 4,000 MW offshore capacity the Danish action plan will be the world's largest investment in wind power ever.

Offshore Timetable in Denmark
Danish power companies have already applied for planning permission for 750 MW of offshore wind parks. According to their timetable more than 4,000 megawatts of wind power will be installed offshore in Denmark before 2027. The first stage is likely to be a smaller 40 MW offshore park just of the coast of Copenhagen in year 2000.


A report drafted by the Danish power companies for the Minister of Environment and Energy identifies four main areas in Danish sea territory suitable for wind power with a potential of 8,000 MW. The philosophy behind the selected areas is simple: For environmental reasons the Committee has concentrated the capacity in few and remote areas with water depths between 5 and 11 metres.


The areas have been selected to avoid national park areas, shipping routes, microwave links, military areas, etc. The distance from coastal areas varies from 7 to 40 km. This also minimises the visual impact onshore.


The most recent research into foundations indicates that it may be economic to install offshore turbines even at 15 metres water depth. This mean that the offshore potential is some 16,000 MW in the selected areas in the Danish Waters.