The F.L. Smidth Turbines


During World War II the Danish engineering company F.L. Smidth (now a cement machinery maker) built a number of two- and three-bladed wind turbines.


Yes, Danish wind turbine manufacturers have actually made two-bladed wind turbines, although the so-called "Danish concept" is a three bladed machine.


All of these machines (like their predecessors) generated DC (direct current).
(43 K, JPEG)
(Photograph © F.L.Smidth & Co. A/S)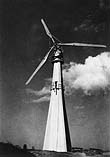 This three-bladed F.L. Smidth machine from the island of Bogø, built in 1942, looks more like a "Danish" machine. It was part of a wind-diesel system which ran the electricity supply on the island. (22K, JPEG)


Today, we would probably argue about how the concrete tower looks, but this machine actually played an important role in the 1950s wind energy study programme in Denmark.


In 1951 the DC generator was replaced with a 35 kW asynchronous AC (alternating current) generator, thus becoming the second wind turbine to generate AC.
(Photograph © F.L.Smidth & Co. A/S)